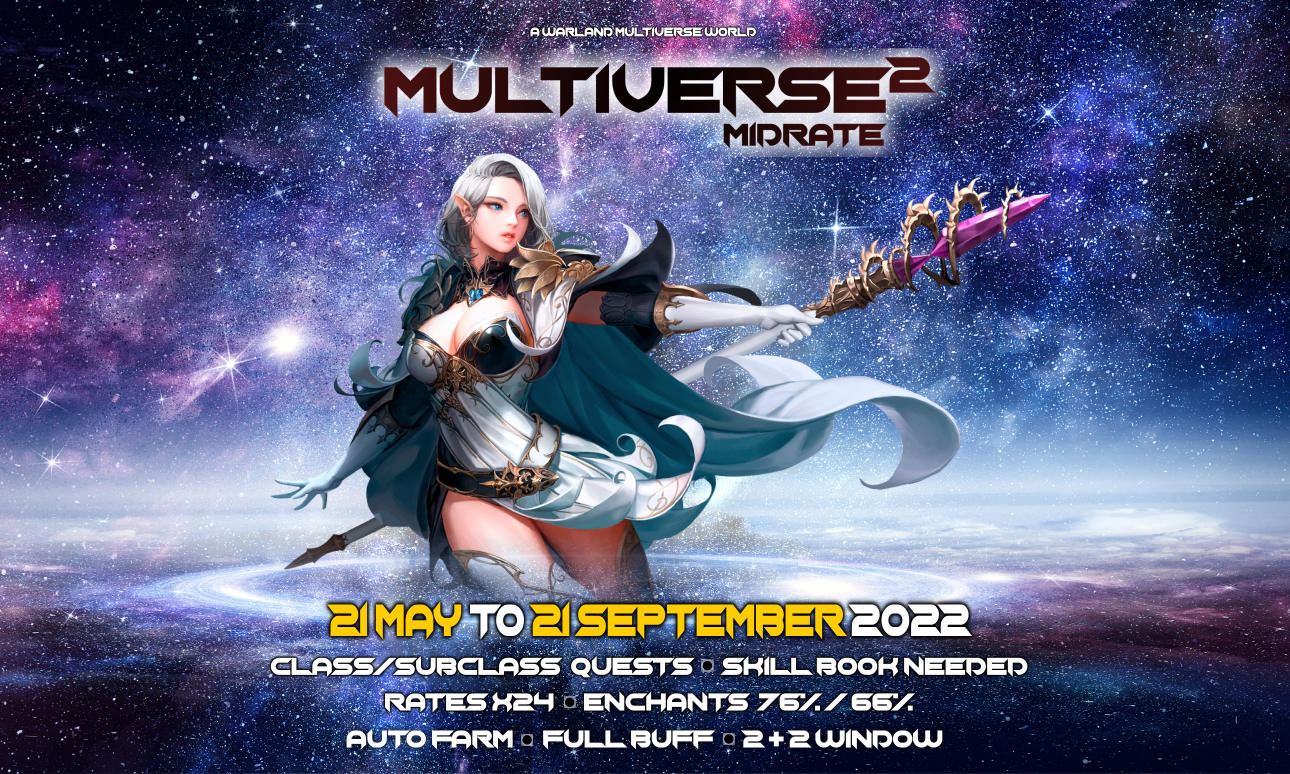 MULTIVERSE GRAND OPENING ANNOUNCEMENT
21 May 2022 19.00 GMT+2
Hello Warlanders !
We Upgrade Synthesis to Multiverse project !!!
As you all know, Warland was born 6 years ago with a specific purpose, to offer something unique that to this day no other server has been able to offer. It was created to offer a fair game, equal, with opportunities for everyone and with endurance over time.
Warland MuLTIVERSE will be a new world, connected with Main Warland x12, but with a specific life cycle. It will be reborn every 4 months and the players that will be configured in it they will be assimilated in the main Server, taking with them all the items they have created on their character.
A new era begins, a period that will never be too late for anyone to begin on Warland, an era in which Warland x12 is constantly gaining new worlds, ready to claim supremacy in a demanding and competitive space. And all this with the guarantee of the huge lifespan that only Warland can offer.
Main Difference from the main server has be the Class / Subclass Transfer Quest and Skill Books to learn class skills
that allow us to increase the rates of drop/spoil/quest and set retail like enchant system with 76% / 66%
With a simple command like .multiverse give the ability to all players move their Items from MULTIVERSE >>> WARLAND any time in MULTIVERSE Life
with a simple way like get items from Warehouse , to move your items need to be on same account chars and put items on private warehouse.
THE FIRST LINEAGE2 MULTIVERSE – TWO PARALLEL WORLDS IN FUSION
Give the option to all players New and Old to play in a Parallel Universe of Warland World.
DETAILS
MULTIVERSE Server open in 21 May 2022 19.00 GMT+2
MULTIVERSE Items Can be transferred at begin, Characters one Week Before Multiverse life complete

You can use Account from main Server, but need to create new chars
4 Days before the Grand Opening you can Create your Chars with 2 days protection about the char names.
We try to provide a nice summer game for the old and new players like the old good days of this beautiful game.
Old School Game Style with New Feature

» Class Quest.
» SubClass Quest.
» Skills Book.
» Nobless Quest with second path like H5.
Rates
» Xp 24x.
» Sp 24x.
» Adena 24x.
» Drop 24x.
» Spoil 16x.
» PartyXp/Sp 1.2x.
Enchant Rates
» Safe enchant +3.
» Max enchant +16.
» Simple scrolls – 66%.
» Blessed scrolls – 76%.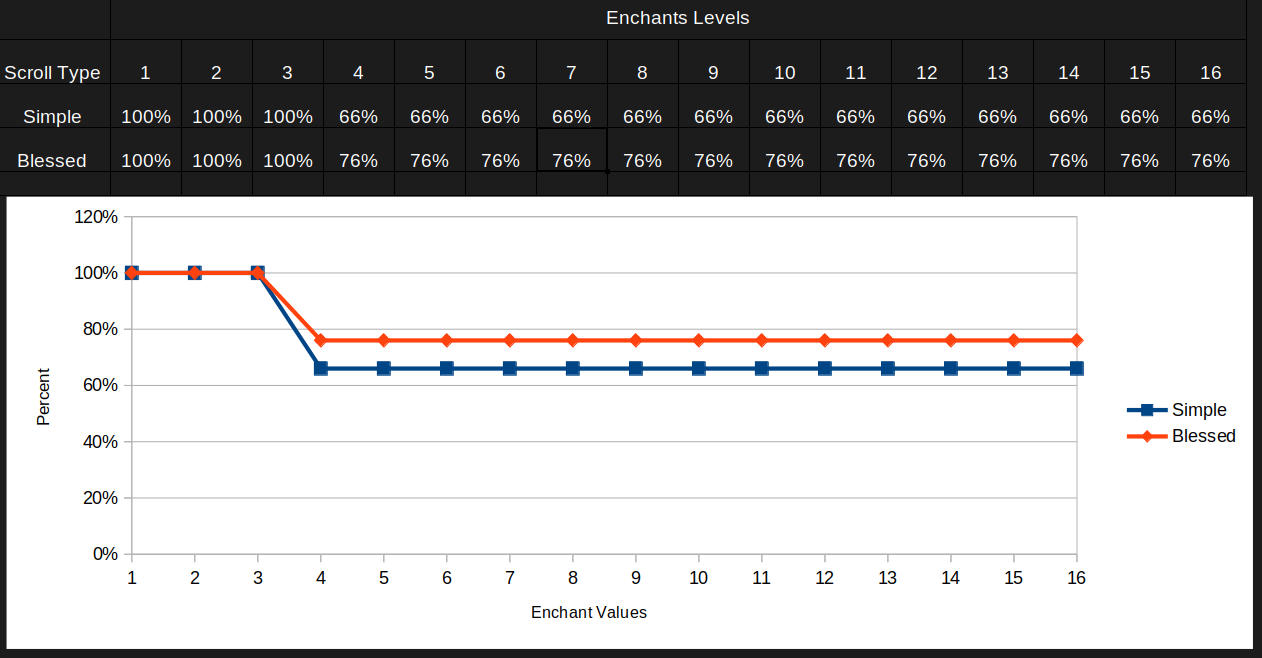 Players Limits  2 Free + 2 VIP PLUS Characters per PC.
Farm Assistant 1 per PC + 2 VIP Plus (3 MAX) (We not allow AFK Farm, players need to stay on keyboard and answer our Antibot Guard).
Epic Boss spawn for random at
Core : 21 May 2022
Orfen : 21 May 2022
Ant Queen :  21 May 2022
Zaken : 21 May 2022
Frintezza : 21 May 2022
Baium : 21 May 2022
Antharas : 21 May 2022
Valakas : 21 May 2022
All Boss / Epic Areas limited for 1 character per PC.
All Boss / Epic Areas is Flag Area.
Epic Boss spawn window on raidboss map set to 3 hours.
Olympiad Match start at Begin :
3 Hours per Day 21.00-00.00 (Germany Time) (is possible to balanced for difference time zones).
Without any Limit of Enchant

Anti Feed Options:
1 Character per PC / 24 Hours
Class Base match is Enabled
(Maybe close in the future).
Olympiad List Disabled.
Observe Match Disabled.
Clan / Ally Anti-Zerg
80 Players per Clan.
2 Clan per Ally.
.editacademy is a leader command to set Clan Recruit in the Game
Castle Protection from Bot Clans
Leader start the Pray only if more of 5 Clan member exist in Siege Area.
Sieges Start at Begin

Viptele Limited for not FLAG or KARMA Players.
Events
» Lucky Lotto / Dice Roll at begin.
» Team vs Team at begin.
» Capture the Flag sat begin.
» Death Match at begin.
» Raid Rank for Clan Point start at Beginning
» Raid Rank with Epic Reward Start at Beginning
» Spartans King start at Beginning.
» Castle War start at Beginning.
» League of Legends start at Beginning.
» Secret Code start in the time.
» Silver Farm start in the time.
» Four Elements start at Beginning
» Toss a coin to Witcher start at Beginning
PK System return to Normal State
(Extreme Karma Mode is possible to return in the Future)
Remove PI PvP Zone
Character can't  Delevel more to 1 Level by Death but using a NPC Manager with Adena, after delevel all skill reset.

Scroll / Bog / Life Stone Stuck in 1 Slot of Inventory.
Auto Enchant / Augment / Craft / Crystallize Server Side System at beginning.

Visitors System using on Multiverse in BETA mode

Bot / Script / Interface like Adrenaline/L2Tower/Etc Payed or Free version is not allowed and banned without any warning.
Real Money Sellers Punished with PERMA BAN without Second Chance and add in Warland Blacklist,
that mean every time to trace a player from black list Get instant BAN without any warning.
Punished Flames = Family, Religion, Nationality, Health, Racism and Extreme Toxic Players
We not allow a Extreme Toxic Environment again …
Auto Increased Punish System for Toxic / Flame Players like
1 Punish: 1 Day Chat Ban.
2 Punish: 2 Days Chat Ban
3 Punish: 3 Days in Jail
4 Punish: 5 Days in Jail ……..
Fortress Auction start at Beginning 19.00 GMT+2 , First BIDs End in 14 May 00.00 GMT+2 (after some hours).
We edit this announce if we need to add more details about GRAND Opening and Server Details, so keep your mind here.
Your
Admin Zeus